Sailed on the Thames Estuary from Whitstable Yacht Club
Day 1.
Whitstable Yacht Club welcomed a 30 boat fleet to their lovely town. The sun was shining and everyone was anxious due to the heavy wind forecast but the race officer went out, set a course and started the first race in 17-22 knots.
Gillard/Briddon were first to reach the windward mark after a close tussle with Holt/Woelfel up the first beat, followed by Pinnell/Davies and the very quick pack!
The front 5 were extremely close all the way round and finished within 100m of each other. Gillard/Briddon clinched 1st place followed by Holt/Woelfel & Pinnell/Davies.
The next race sequence started but subsequently canned due to a 33 knot squall and a falling tide.
Great close racing had by all the fleet and looking forward to Day 2!
Day 2.
Another great day of sailing out of the Whitstable Yacht Club. We completed three races, although the race committee tried very hard to run a fourth but conditions would not allow it.
Racers saw everything today from persistent shifts to the left, to persistent shifts to the right, to the right to oscillating shifts. The race committee had their hands full trying to keep the course square. The weather cooperated nicely and crews were on their trapeze up wind and down wind all day long.
At the start of the day Tom Gillard and Harry Briddon were in first place wearing the bright yellow first place rash guards with a giant 1 provided by the race committee. Mike Holt and Rob Woelfel were in second place wearing the blue rash guard with the giant number two. Ian Pinnell and Alex Davies were wearing the bright red rash guards with the number three on it.
The racing was very tricky and in three races we had three different first place finishers. There were big gains to be made to the boats that could limit their exposure and choose the right side of the course. A big mistake could cost you dearly as the races were quite short, generally running around 40 minutes each.
In race number one Nathan Bachelor and Sam Pascoe from Tynemouth Sailing Club won in commanding fashion leading the race for the vast majority and getting the bullet as they crossed the finish line. Philippe Boite/Matheus Fountaine finished Second with Mike Holt and Rob Woelfel in third.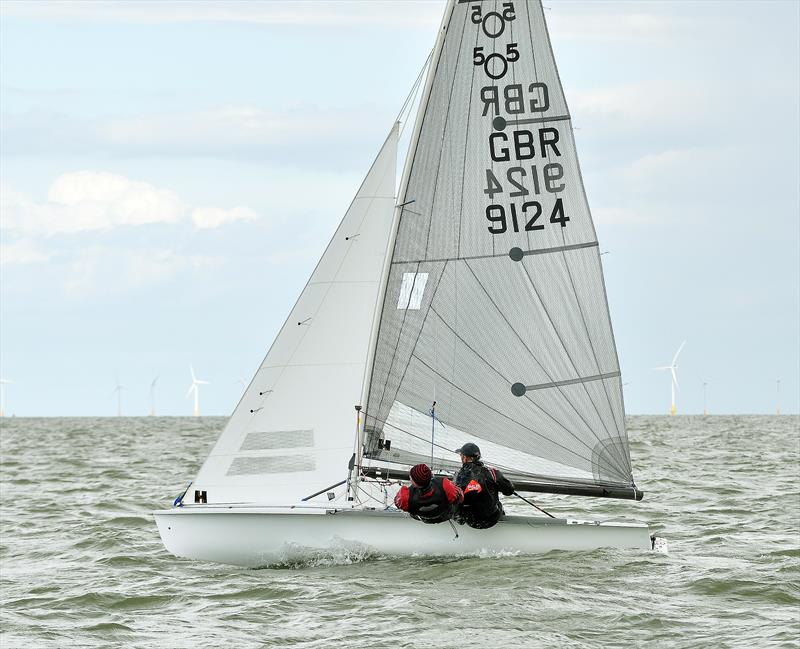 505 Nationals at Whitstable – photo © Nick Champion / www.championmarinephotography.co.uk